Upcoming Concerts
Two-Time Grammy Nominated and Six-Time IBMA Award Winning 
SPECIAL CONCENSUS Coming to Live At The RC
February 26 - 7 PM
Get your tickets HERE
Upcoming Concerts
$20 online for Preferred Seating
$20 purchased at the door for general seating 
Special Consensus is led by Greg Cahill, banjo player and recipient of the Distinguished Achievement Award from the International Bluegrass Music Association (IBMA), and includes Greg Blake (guitar), Dan Eubanks (bass) and Michael Prewitt (mandolin). Special Consensus has received six awards from the IBMA and two Grammy nominations.
The Special Consensus is a bluegrass band that has achieved a contemporary sound in their four decades of performing, making their music a modern classic. They are four talented vocalists and instrumentalists who follow their creative desires without straying too far from their bluegrass roots.
"Rivers and Roads" (Compass Records) was nominated for the 2018 Best Bluegrass Album GRAMMY award and received 2018 IBMA awards for Album of the Year and Instrumental Recorded Performance of the Year ("Squirrel Hunters"). "Chicago Barn Dance" (Compass Records) 2020 celebrates the 45th band anniversary and the connection of country and bluegrass music to Chicago from the time of the WLS "National Barn Dance" - precursor to the Grand Ole Opry.
The title song "Chicago Barn Dance" received the 2020 IBMA Song of the Year Award. 
www.specialc.com    www.facebook.com/special.consensus    Instagram: specialconsensus
Special Events
Join us for First Fridays At Live At The RC! 
Family friendly, ALL ages 
Ages 6 and up $10 
Ages 5 and under - FREE 
Each first Friday of the month we have a DJ, Karaoke, Dancing and Fun in our Live At The RC venue space with lights and sound. We have plenty of room to dance, sing karaoke, or just hang out and have fun! 
Food and drinks specials can be purchased separately in our Bistro At The Cow, and Ice cream and coffee available at The Rustic Cow. 
Tickets can be purchased in advance or at the door, if space is available. 
Click on the Calendar date below you wish to attend and get your tickets now!  
Accommodating up to 250
Afternoon Tea At The Bistro 
4 PM 
Various Dates - see the calendar for the next upcoming event.
"Growing up, one of the things I remember the most is my Grandmother having her afternoon tea - a daily staple in her life.  It was to be served in a teacup with a saucer and a few of her favorite cookies or sandwich bites to enjoy, at 4 p.m., right before the evening meal or activity.  
Carrying that memory with me, I am excited to share that experience with you by introducing "Afternoon Tea at The Bistro".   
We hope you will be able to attend - and bring a friend or your family and come enjoy a true afternoon tea with us."  
~ Denise Naville, Owner of the RC Entertainment and Event Center 
Adults 13 and over $16.99 
Children 12 and under $13.99 
Limit 40 per seating
Events/Tickets
Tickets are purchased using the PAYPAL app, but does not require PayPal - you may choose to use the credit/bank card of your choice. 
Call  1-800-943-1487 for more information.
Bistro At The Cow will have food and speciality drinks available - and The Rustic Cow will have ice cream and coffee drinks for purchase.
About Us
Cool things happening in Newport, TN - right off of I-40 in the East Tennessee Smoky Mountains surrounded by white water rivers and beautiful mountains seems like a good spot for a new music and event venue. 
Live At The RC showcases national touring artists and hosts special events in a multi-purpose venue with with Meyer sound and complementary lighting that gives you a big city feel with hometown hospitality.
Live At The RC is part of The RC Entertainment and Event Center - and is connected to two amazing experiences - Bistro At The Cow that features catering, farm to table events and show concessions, and The Rustic Cow that has hand-dipped Ice Cream The Cow Tippin Cafe with specialty coffees and fresh baked goodies. It's a one stop event all in the same building.
We're rehabbing a 33,000 sq foot 1940s building right downtown in Newport with three experiences and a mercantile to visit while you're here. 
So, come hang out with us in our rustic and comfortable place where everyone is welcome!
Live At The RC is managed by The RC Foundation and produced by SCAgency.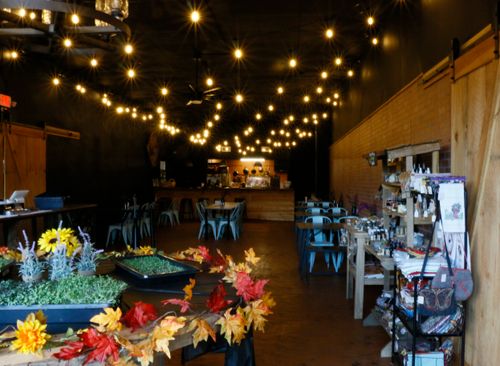 Our venue features stage and house lighting, a front of house Meyer Sound System  with CQ1 Speakers and 700 HP Subs, EV monitors, wireless ear capability and Sure and Audio Technica microphones.  We can seat 250 with room up to 300, and are set up for live touring artists, entertainers, dinner show and private events. We provide event producing, and coordination, and catering services through our Bistro and Ice Cream Shops, and provide decor services.  For space rental please contact booking@liveattherc.com for more information. 
Sponsors
A special thank goes out to our sponsors and donors who make Live At The RC possible through the efforts of The RC Foundation